How do I trade my car to the dealership?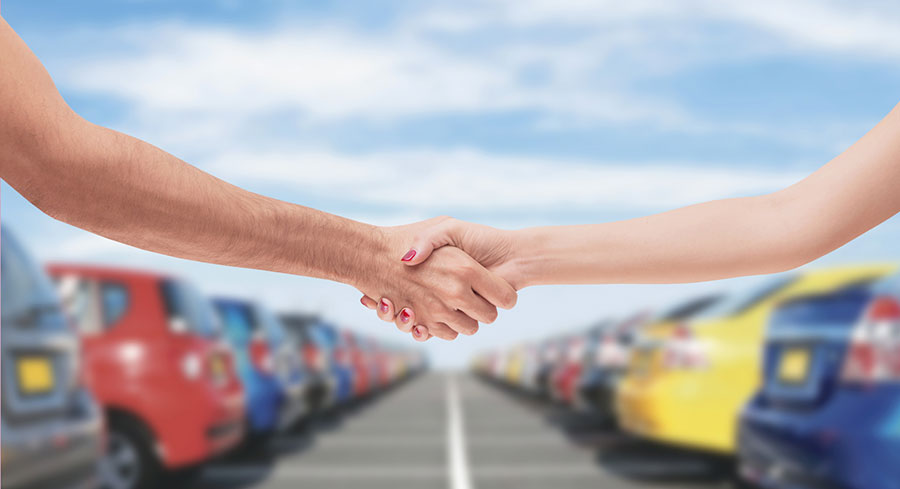 Trading in your old car at the dealership can be an important aspect of buying a new car. The value of your outgoing car can add to your down payment and lighten your financial load. Still, you might be wondering how your local dealership comes up with a trade-in value. We've created this guide to help answer any questions you might have. Check it out before you head to your local dealership.
The Modern Car-Buying Market
In the U.S., millions of cars are bought and sold every year. This huge market is constantly changing, with manufacturers introducing improved fuel-efficiency and enhanced safety gear. Along with these improvements, many models also experience depreciation, because they've aged or accumulated many miles. Basic safety standards also come into consideration. The higher the standards, the more valuable your used car.
Determining Value
Because the industry is always changing, coming up with used car values can be complicated. Overall values are determined by considering real-world new car prices and used car prices in a range of markets, including wholesale auctions, independent dealers, franchised dealers, and rental and fleet sales. By analyzing data and historical trends, we come up with the current cost of your used car.
Fair Purchase Price
If you're looking for a ballpark idea of what your car might be worth, the Kelley Blue Book Fair Purchase Price is a good place to start. Of course, the dealership will also take your vehicle's current condition into consideration. If your car's frame has ever been bent or your air conditioning doesn't work, you'll find that your car might be worth less than what Kelley Blue Book would rate it. Before they make you an offer, dealerships factor in the cost of reconditioning your vehicle.
The Trade-In Process
Many people trade their car in at the dealership because it's quick and easy. When you sell your vehicle privately, you have to deal with a number of hassles - like finding a buyer and verifying payment. Dealerships take the process off your hands and put the value of your old car towards buying a new one.
When you take your car into the dealer, the first thing we do is appraise its trade-in value. We take many things into consideration, including the car's options and condition level. Next, we put that value towards your new car. This way, you can increase your down payment and take out less of a loan to cover the costs of your new car.
Common Mistakes
When you bring your car to the dealership, you should avoid a few common mistakes. Some people think that purchasing new tires or fixing minor problems might add value to their car, but the truth is that the dealership can solve these issues for less money than you can. Another common mistake is overestimating your car's value. Your car's value isn't set in stone - it falls within a range, and your car's worth may not be at the top of that range.