Why Use a Dealer When Your Brakes Start to Squeal?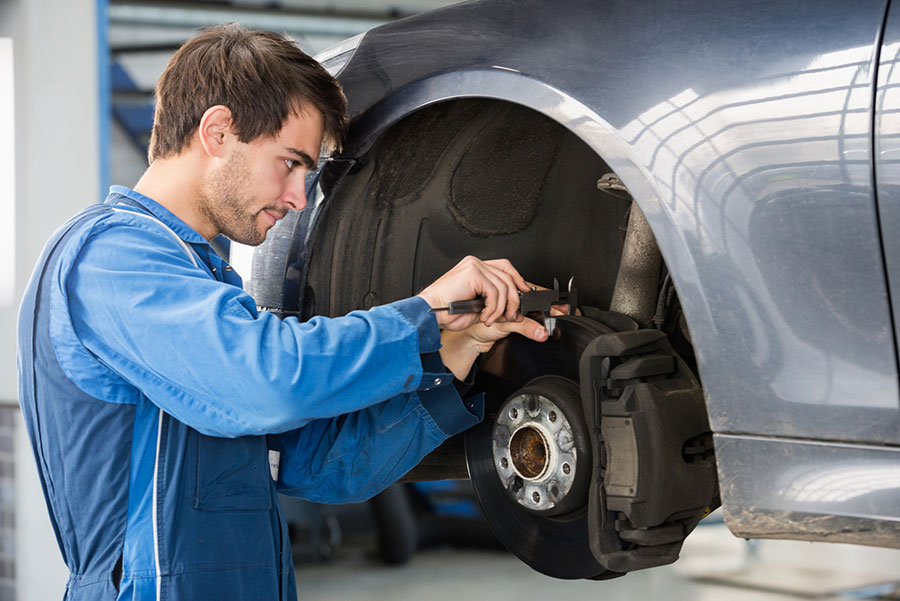 What sounds better: someone who is really good at ONE thing or someone who is just okay at a lot of different things? Do you prefer to pay a little more for quality and longevity or would you rather get a bargain but have to spend a little bit to fix your vehicle more often? Would you go to a doctor who works on bones if you have a problems with your stomach? I don't think so. The same is true when you're talking about your vehicle-and when your brakes squeal, it's time to take it to your authorized dealer.
Experts in the Field
Think about your own vehicle. Whether you own a Nissan Quest, a Toyota Tacoma, or a Ford Expedition, if you take your vehicle to your certified dealership, you know that the technician that works there knows the unique personality of your vehicle. All day, every day, dealer service technicians work on vehicles just like yours, backed by the manufacturer's specialized training and whole lot of resources that the guy down the street at the local lube and brake shop doesn't.
A dealer service advisor knows what to do, and does it right-and stands behind that work 100%. So when your brakes start to squeal, squeak, or otherwise make a noise you can't quite repeat when you take it in, your service technician is much more likely to find the source of the problem and fix it the first time.
Cutting Edge Technology and Information
Since dealerships are a small part of a much larger company, and are backed by the car manufacturer, their service departments have access to more technology and can get up-to-date information as it becomes available. They live and breathe a few specific makes and models, understanding far better than anyone else how one problem might affect another system. A technician at a dealership can not only fix the problem that you came in for, they can also look over the entire car and advise you if anything else might need repair, now or in the near future.
Does it Cost more?
One of the common misconceptions about dealer service departments is that they typically cost much more than the general service centers you can around town. In some cases, that's not true at all-some dealers offer deals and service coupons that get you in and out for less than you might spend at the Quick Oil Change place that works on all kinds of cars and is focused on numbers rather than the safety of your vehicle. In some cases, it is true that you will pay a little more, but you are paying for the difference in quality. A nationally owned auto parts supplier collected data and indicates that car owners spent around $1200 yearly for repairs at a dealership over $900 at an independent shop. Think about what you are getting when you choose a dealership--today's newer model cars are more sophisticated than ever before with more technology and electronic components than ever before. Dealers will often have the newest equipment and expertise to handle complex repairs or even to understand how something like a brake job can affect the tire pressure monitoring system or the electronic diagnostics in your vehicle. They can get a simple or a complex job done faster and right the first time. Wouldn't you rather spend a little more money up front and be confident that it was done right and will last?
Loyalty Pays
When the time comes for a new vehicle, loyalty to a dealership service center can pay you back in spades. When something can't be fixed or you realize that you've outgrown your Ford Focus and need to look at something larger, when you've developed a relationship with a dealership, you may find yourself being repaid for years of loyalty and having a much more pleasant car buying experience. Relationships matter, and one way to build that relationship is to take your vehicle to the dealer for your repairs.
Your vehicle carries your most precious cargo and you rely on it to take you everywhere you need to go. Don't take a chance that the person taking care of your car doesn't know it as well as you do. A dealer service department can handle anything from squealing brakes to more serious engine issues, and you can rest assured that the most qualified, most knowledgeable technicians are looking at your vehicle.